Overview
2-1/2 in. Fire Hose Valve with a Female NPT inlet x Male NST outlet. This model 2-1/2 in. fire hose valve has an equivalent measurement of 63.5 mm in metric. This fire hose valve features one 2-1/2 in. (63.5 mm) Female NPT (FNPT) inlet and one 2-1/2 in. (63.5 mm) Male National Standard Thread (MNST) outlet. Fire hose valves from QRFS are UL-listed and FM-approved and are made from durable, lightweight brass. It includes a forgeline bonnet and seat assembly with a red handwheel.
Each fire hose angle valve has a rated pressure of 300 PSI (2070 KPa). This valve is 11 in. (275 mm) tall when fully opened and 3 3/16 in. (79 mm) wide from inlet center to outlet tip.
Fire hose valves are a stock item and can ship quickly.
Where is a 2-1/2 in. Fire Hose Valve commonly found?
2-1/2 in. fire hose valves are used as a fire department outlet connection commonly found in stairwell landings of multi-story buildings or as part of a test header assembly on the outside of your building. Additionally, fire hose valves are used with pin rack units inside of a cabinet, which is why fire hose valves are often called a fire hose cabinet valve. Most internal fire-fighting hose applications - whether from fire fighters bringing hose or stationary pin rack units - use 1.5 in. fire hose and, as such, this valve will commonly pair with a 2-1/2 in. to 1.5 in. hose valve reducer.
Fire hose valves are part of the standpipe system. When a fire department connects to a fire department connection (FDC) to charge an automatic sprinkler system or a standpipe system, the fire hose valve is the outlet where firefighters can connect their hose on specific floors. If the fire hose valve is part of a pin rack unit, the concept remains the same - an access point for water to fight the fire - but the pin rack unit provides the hose.
Is this 2-1/2 in. fire hose valve UL and FM approved?
Yes, all fire hose valves on QRFS.com are Underwriters Laboratory (UL) and Factory Mutual (FM) approved. While this product is imported, it meets the rigorous standards set forth by both UL and FM. It is also C UL US, which means it is also approved for the Canadian market.
What special threads are available for this fire hose valve?
This product page is for a F NPT x M NST fire hose valve. However, if your job requires different threads or your building is in a jurisdiction with local threads on your fire hose angle valve, then QRFS can help. Other threads available by special request include:
Louisville thread
Cleveland thread
Chicago thread
Pittsburgh thread
New Cincinnati thread
New York Corp thread
New York Fire Department (NYFD) thread
Richmond thread
Raleigh thread
Plus various Canadian threads including: CSA, BCT, WCT, QST
Full sizing details: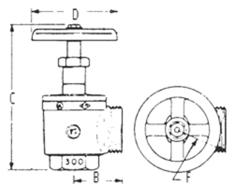 Table of Measurements
| Letter | Dimension |
| --- | --- |
| B | 3 3/16 in. (79 mm) |
| C-Closed | 9 1/4 in. (231 mm) |
| C-Open | 11 in. (275 mm) |
| D | 5 in. (125 mm) |
| F | 3-3/8 in. (85.73 mm) |