Overview
1-Hole CPVC Hanger Pipe Straps
These 1-Hole CPVC Hanger straps are designed specifically for supporting 2 in. CPVC (Chlorinated Polyvinyl Chloride) pipes. Made of a durable steel with a pre-galvanized finish and a beveled edge design, these CPVC pipe hangers are designed to mount CPVC pipe to wood or composite wood joints with a minimum of 3/8 in. thickness. These pipe hanger straps are UL Listed when installed properly. The strap's design ensures that the CPVC pipe is properly aligned and elevated, preventing sagging and potential stress on fittings and connections. This support is crucial for the overall integrity and functionality of the plumbing system.
1-Hole CPVC Hanger Pipe Straps Sizing, Options, and Additional Information
The 1-Hole CPVC Hanger Straps are available in five different sizes, each designed to fit a different CPVC pipe size:
3/4 in., 1 in., 1-1/4 in., 1-1/2 in., 2 in.
When installing a 1-hole CPVC pipe strap, it is essential to use the appropriate fasteners and spacing as recommended by building codes and regulations to ensure a safe and reliable installation. These straps come in various sizes to accommodate different pipe diameters and are made of durable steel that can withstand the demands of CPVC applications.
Specifications
| | |
| --- | --- |
| QRFS SKU: | 52-LN-HS1C-20 |
| Manufacturer Part Number: | 500-300-00300 |
| Manufacturer: | Lansdale |
| Product Line: | CPVC Hanger Strap |
| Product Type: | 1-Hole |
| Material: | Steel |
| Application: | CPVC |
| Size: | 2 in. |
| Pipe Size: | 2 in. Pipe |
| Strap Diameter: | 2-13/25 in. |
| Minimum Joint Thickness: | 3/8 in. |
| Finish: | Pre-Galvanized |
| UL Listed: | Yes |
| FM Approved: | No |
| Sourced Location: | USA |
| Length: | 2.52 in. (64.01 mm) |
| Width: | 1.1 in. (27.94 mm) |
| Height: | 2.5 in. (63.5 mm) |
| Weight: | 0.14 lb. (0.06 kg) |
| Box/Pack Quantity: | 110 |
Data & Resources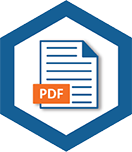 1-Hole CPVC Strap Data Sheet (PDF - External Link)